100 Church Street – a green island among Manhattan's offices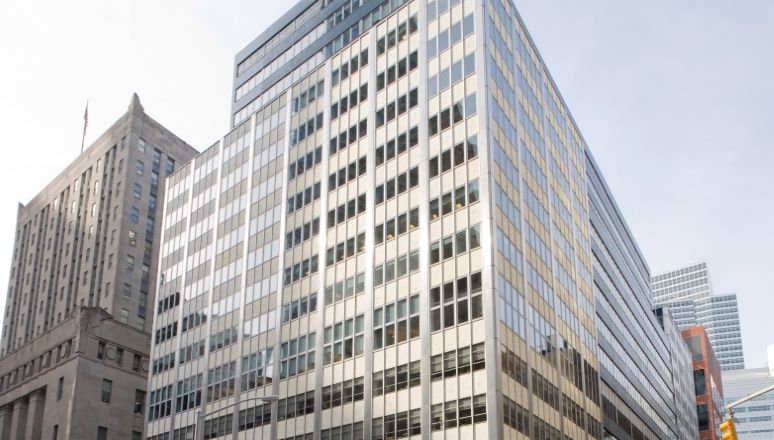 As an international property finance provider, Aareal Bank Group can make a contribution to global, sustainable growth. We do not see the financing business as purely lending, and are aware of our social responsibility. In this way, we also want to support our clients in transforming their own business models. With the "Aareal Green Finance Framework", we have laid the foundations to drive forward the green transition together with our clients.
Green financing for a top property in a prime Manhattan location
Our subsidiary, Aareal Capital Corporation, closed a financing agreement with SL Green Realty Corporation, New York City's largest office landlord. Aareal Capital Corporation acted as lead arranger, lender and agent for the USD 370 million senior mortgage facility that will be used to refinance the REIT's share in the office building. A total of USD 290 million has been syndicated to Crédit Agricole Corporate & Investment Bank, Helaba and Deutsche Pfandbriefbank.
This distinctive building, located at the intersection of Tribeca and the Financial District, sits at the heart of downtown Manhattan, just a few steps from the site of the former World Trade Center and Fulton Street transit hubs. The property was acquired in 2010 by SL Green Realty Corporation.
An award-winning green building

The office building was constructed in 1958, and before it was revitalised by SL Green it would have been the perfect backdrop for the hit US TV series "Mad Men", set in Manhattan's advertising industry in the 1960s. Totalling 1.1 million sq ft (around 102,200 sq m), the 21-storey building is an early example of new modern architecture. The facade is the only reminder of that period today. Following a comprehensive modernisation, the building has become a green island in the heart of Manhattan and won multiple prestigious awards for its smart lighting and air conditioning systems and energy-efficient operating standards. Additionally, 100 Church Street is Gold certified in accordance with the internationally recognised LEED (Leadership in Energy and Environmental Design) process. LEED has been setting global standards for the development and planning of "green buildings" ‒ i.e. buildings that are extremely ecologically efficient ‒ for more than ten years. "The quality of the property and the borrower are therefore just as crucial for this transaction as the financier's precise knowledge of the market. SL Green have impressively sustainably repositioned 100 Church Street – in the literal sense of the word," stated Douglas Traynor, Managing Director, Aareal Capital Corporation.
In our 100-year history, we have consistently convinced our clients with our financing expertise, reliability and our flair for new trends: "We greatly appreciate the partnership of Aareal Capital Corporation, which validates our belief in the long-term strength of this incredible asset and of prime Manhattan commercial real estate," said Harrison Sitomer, Chief Investment Officer of SL Green.